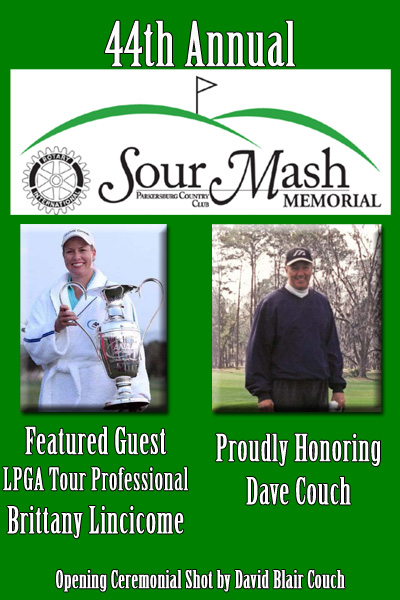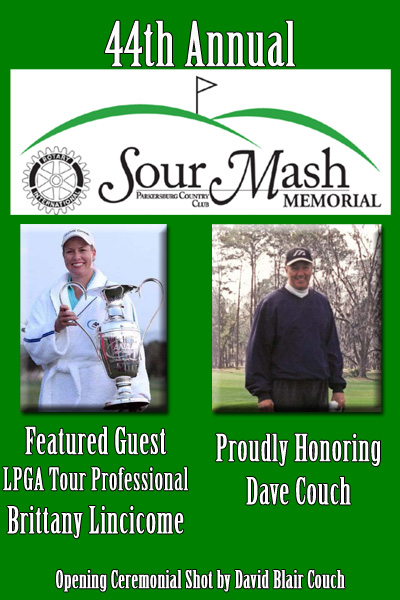 Don't miss the 44th Annual Sour Mash Memorial on June 20, 2015.   Sour Mash Memorial Golf Tournament is presented by the Wood County Rotary Club and the Parkersburg Rotary Club.
Sour Mash Memorial Brochure- 2015
Grant Application – 2015 Sour Mash Memorial
The Parkersburg and Wood County Rotary Clubs invite you to participate in the 44th Annual Sour Mash Memorial golf tournament, which will be held at the Parkersburg Country Club on Monday, July 20, 2015.  This year's event will honor Dave Couch. The Opening Ceremonial Shot will be delivered by Dave's son, David Blair Couch, prior to the shotgun start at 11:00 a.m. A portion of the proceeds from this tournament will go to a local charity designated by the Couch family. The tournament will continue to support the Bryce-Lietzke-Martin Scholarship fund administered by the Parkersburg Area Community Foundation.
For the eighth consecutive year, the tournament will feature LPGA Tour Competitor Brittany Lincicome. Lincicome and Parkersburg Country Club Golf Professional Scott Davidson will play an exhibition round against the winners of last year's tournament: Tom Moat, Butch Joseph, Eddie Staats and Michael Devore.
Thanks to the past support from various individuals and local businesses, the Sour Mash Memorial golf tournament has raised well over a million dollars for local charities. We hope those of you who have supported this event in the past will continue to do so this year. This is not only a great way to support local charities, but also a great way to spend the day entertaining friends.
If you plan to play in the tournament, please respond as early as possible. The field will be limited to 120 golfers. We would appreciate your response no later than July 13th. Information on the Sour Mash Memorial event can be found in the enclosed brochure. If you have any questions, please feel free to contact the Parkersburg Country Club at (304) 295-4841.
Sour Mash Memorial Committee
http://parkersburgrotary.org/wp-content/uploads/2015/04/2015-Sour-Mash.jpg
600
400
admin
http://parkersburgrotary.org/wp-content/uploads/2012/07/rotarycentersm.png
admin
2015-04-24 17:40:08
2015-04-24 20:22:33
44th Annual Sour Mash Memorial